There are different ways to charge your iPhone; you can go wired or wireless. It's easy to choose wired chargers, but that's not the case with a wireless charger. You'll have a plethora of wireless chargers to choose from.  
If you decide to go with Apple's Duo charger, you can only charge your iPhone and Apple Watch simultaneously, which is good for now. But there's a much better alternative from the house of PITAKA – it's called the MagEZ Slider 2. 
In this review, we'll take a deep dive into the MagEZ Slider 2 and its features and see how it performs. 
MagEZ Slider 2 review: The 3-in-1 modular charger
The MagEZ Slider 2 is a wireless charger that lets you charge your iPhone, AirPods, and Apple Watch simultaneously. We've already reviewed the MagEZ Slider previously. We'll look at the new MagEZ Slider 2 and see how it compares to the previous one. 
My first impressions indicate that this could be the perfect charger, especially if you have an iPhone, AirPods, or Apple Watch. For more details, let's dissect each aspect of the charger.
MagEZ Slider 2 – Specifications
Compatibility
iPhones with MagSafe and wireless charging, Apple Watch, AirPods with wireless charging cases, and other devices via USB Type-C cable.
Weight
Total: 238g
Battery pack: 112g
Materials
Aramid fiber, Zinc alloy, Plastic
Output capacity
Wireless output: 5W to 7.5W
AirPods wireless output: 5W
Battery capacity: 4000 mAh
Features and package contents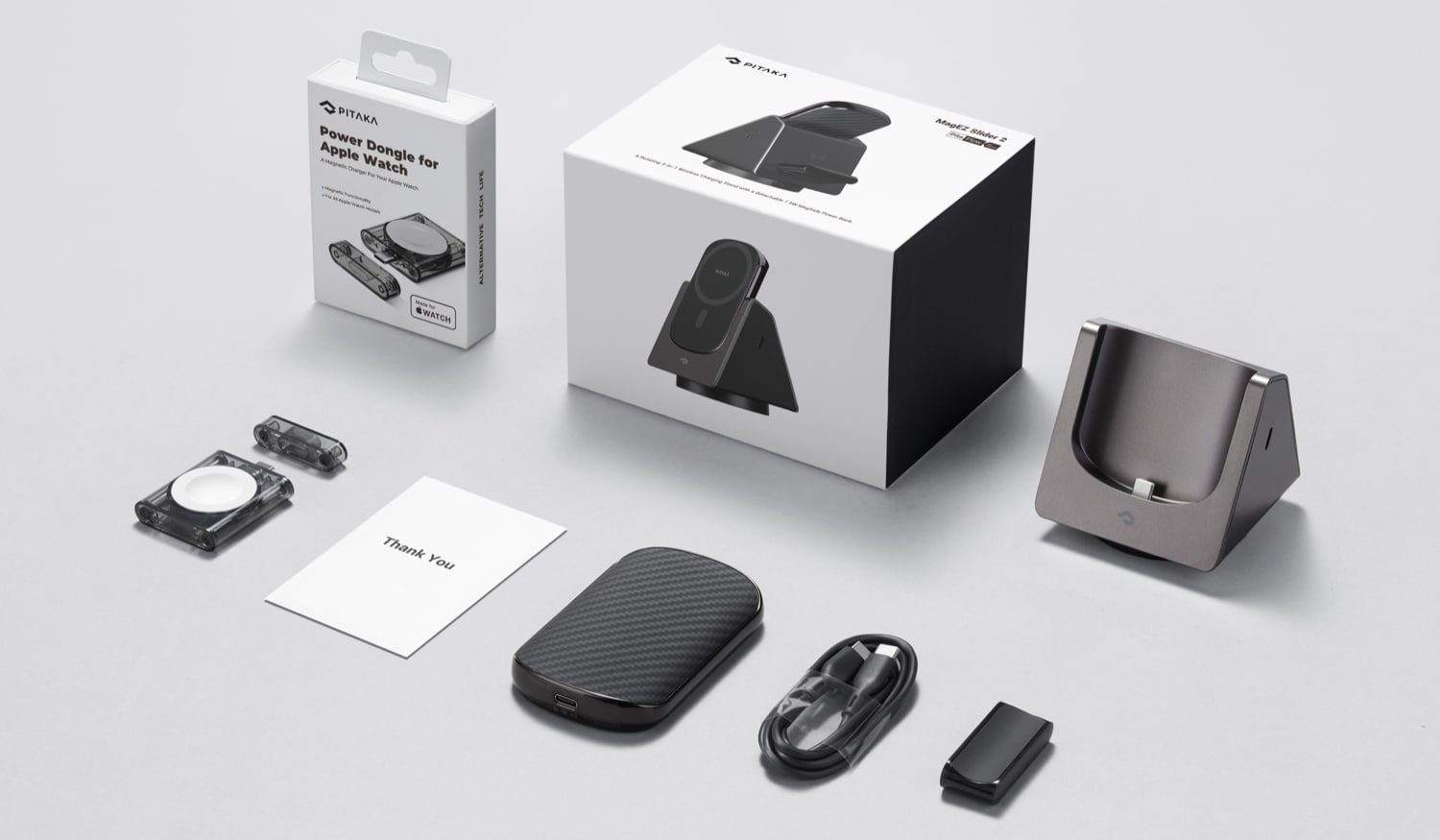 When you receive the MagEZ Slider, you'll get a few things in the package. It includes a spinning base, a 4000 mAh power bank, a power dongle, a USB Type-C to Type-C cable, and a magnetic earbuds holder. If that sounds a lot to you, the features will amaze you more. 
Landscape and portrait phone stand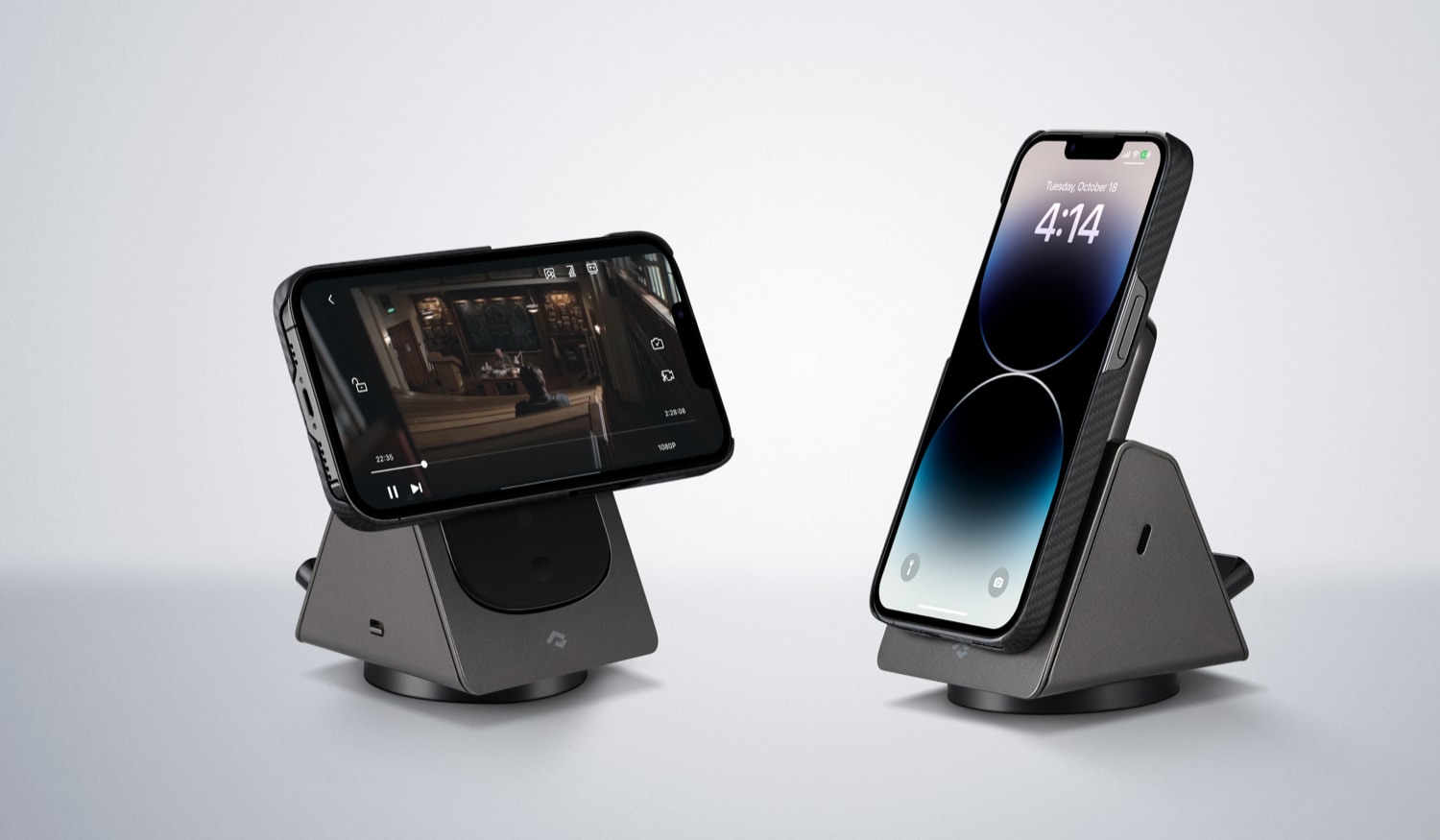 Sometimes you're tired and want someone to hold your iPhone while you enjoy your favorite movie or TV show, but nobody will do that for you, right? But the MagEZ Slider 2 can. 
You can put your iPhone on the MagEZ Slider 2 to charge, and you can keep your iPhone in portrait mode if you're scrolling through TikTok, or you can put it in landscape mode to watch your favorite YouTube channels like iGeeksBlog, TV Shows, and movies. 
Turning the iPhone is smooth even when charging magnetically with MagSafe. Since the magnets are strong, you don't need to worry about your iPhone that it will fall. Moreover, your iPhone will tilt at 45 degrees when you put it on the stand, making it perfect for video calls. 
Modular design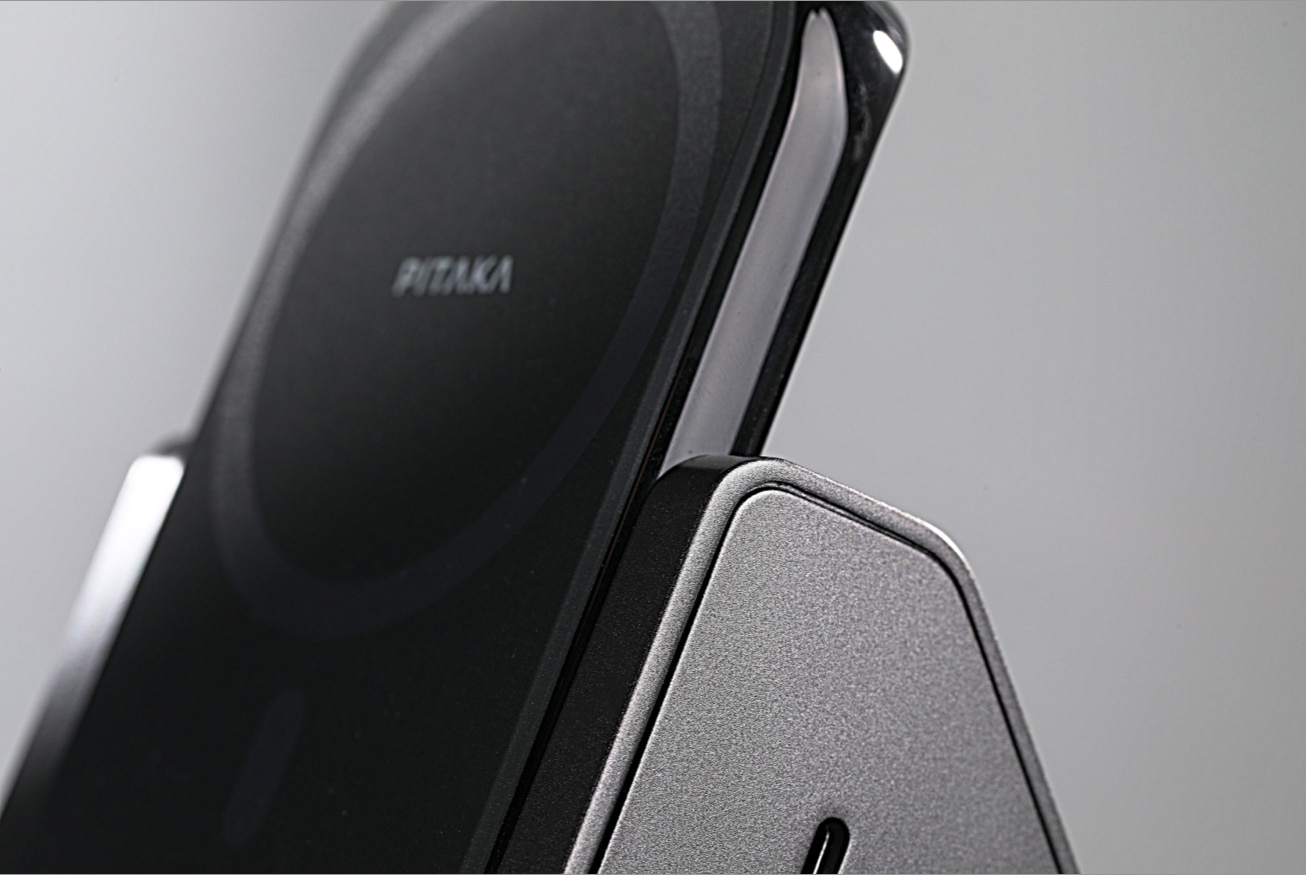 A modern, modular design is something that I didn't expect from this power bank. While you can charge your iPhone on the stand, it also doubles as a 4,000 mAh battery pack that you can take with you when you're on the go. Simply slide the MagSafe battery pack out of the base, slip it into your bag or snap it to the back of your iPhone. This helps keep your iPhone alive when you're out of juice. It's also small and lightweight while still packing a good amount of power.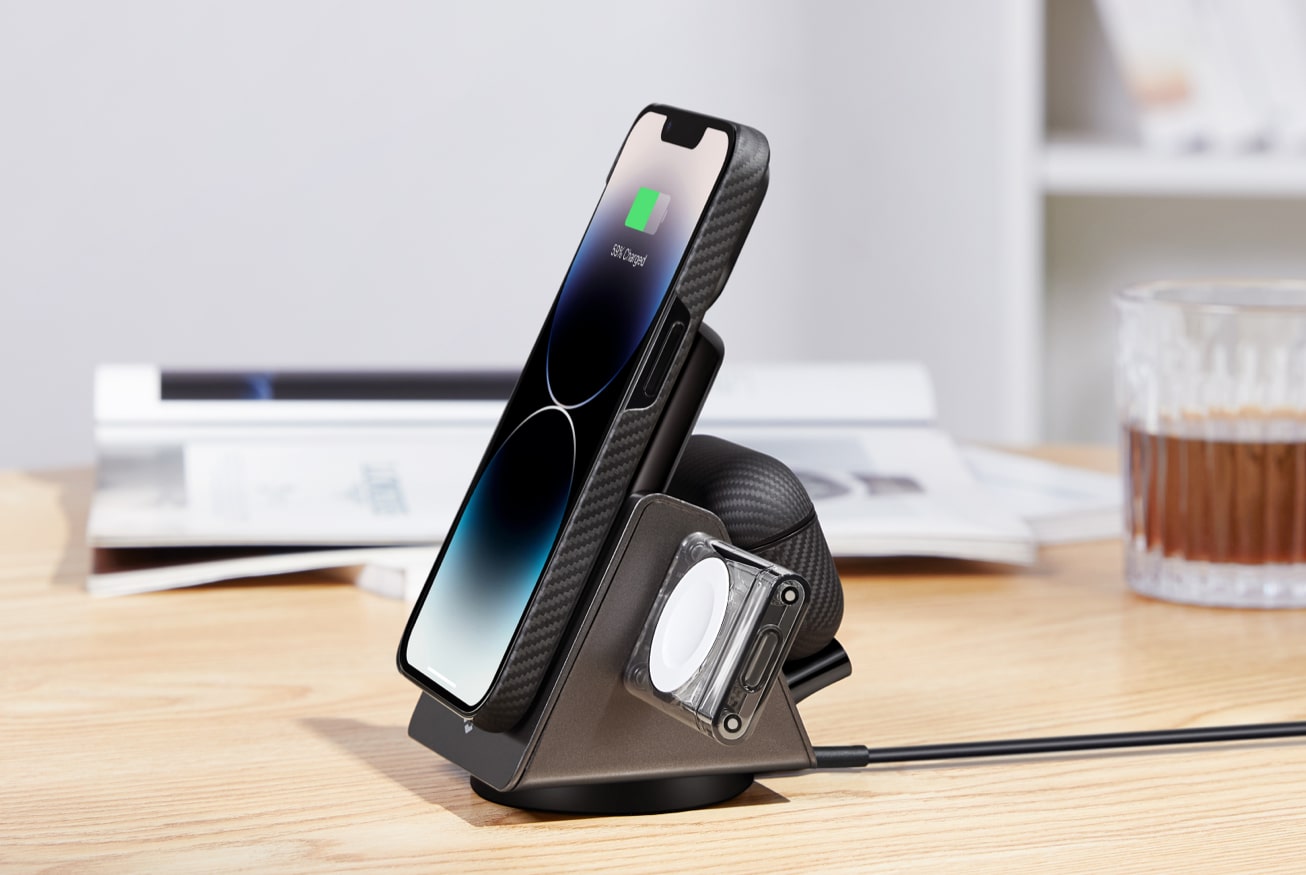 Moreover, getting the detachable magnetic pads lets you connect via the USB-C port to the side and back of the stand. You can use these attachments to charge your Apple Watch on the side and the AirPods on the back of the stand. Besides, if you don't want to use the included attachments, you can connect a USB-C cable to charge your Apple Watch or your AirPods via the provided ports.
Furthermore, the MFi-certified Apple Watch wireless charger can be unplugged from the base. If you need to charge your Apple Watch on the go, unplug it and take it with you wherever you go. Then you can use the USB-C port on your laptop, iPad or other devices to wirelessly charge your Apple Watch at 5W.
While the battery pack and AirPods holder come in the box, you'll have to purchase the attachment for Apple Watch separately.
Spinning base with lock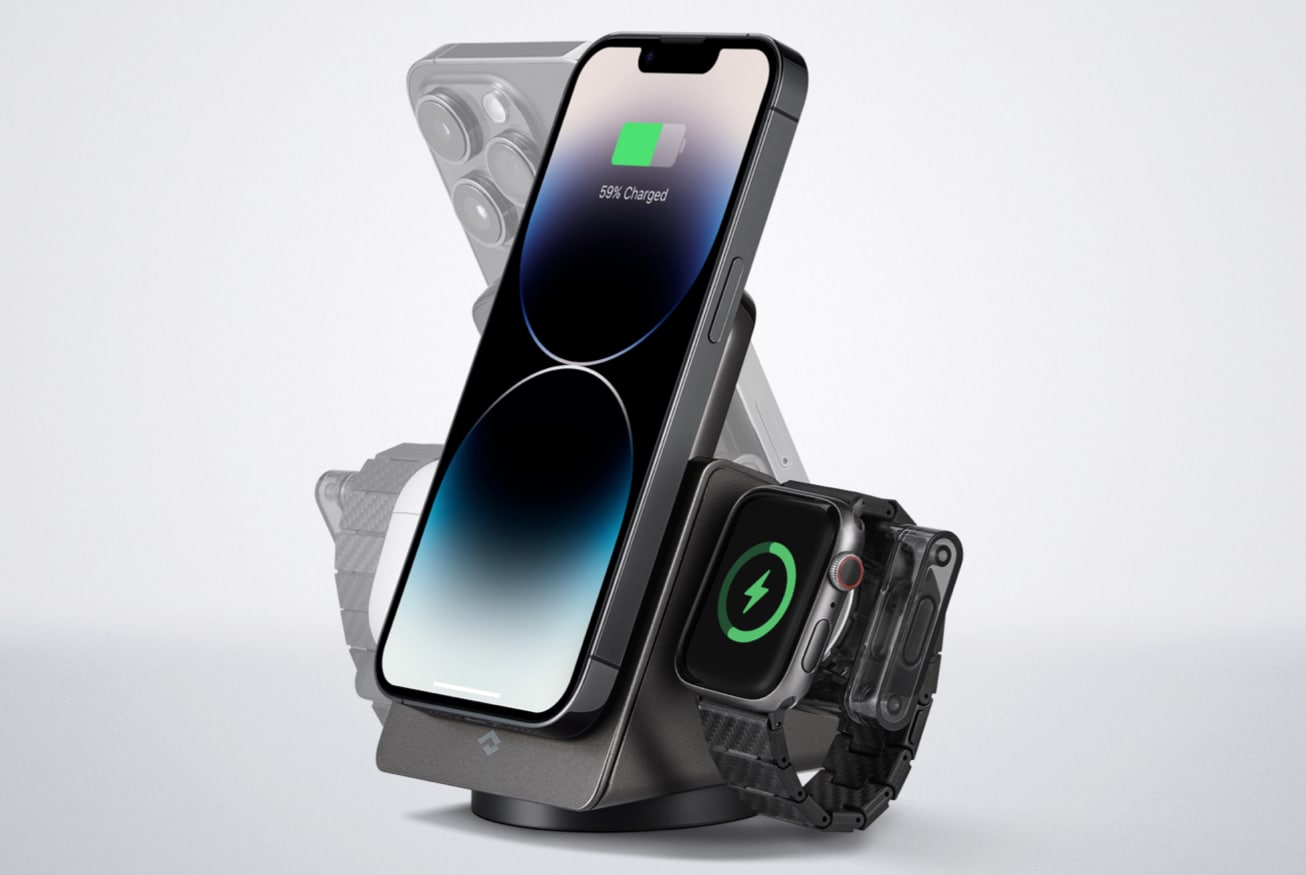 The previous MagEZ Slider also had a spinning base that allowed you to spin the stand to keep your iPhone on whichever side was comfortable for you. However, the only problem with the spinning base was that it sometimes kept spinning with a slight force until you stopped spinning. 
PITAKA took care of this issue by providing a lock that lets you completely stop the spinning base once you've found your perfect position and unlock it if you want to take it to a spin anytime. This way, you can avoid accidental spins and keep your iPhone sturdy. 
Should you get the MagEZ Slider 2?
iGeekometer 
Design
Features
Portability (Battery pack)
Value for money
If I were in your place, I'd pick up the MagEZ Slider 2 over Apple's MagSafe Duo charger. It can keep your desk tidy with fewer cables while keeping the option of easy charging a snap away. 
Furthermore, PITAKA significantly improved the MagEZ Slider with this iteration, and it feels slightly more complete than its predecessor. Moreover, it has an exceptional build quality with Aramid fiber and zinc alloy. Besides, you don't have to worry much since it's MFi-certified. 
However, I felt that PITAKA could slightly improve the charging speeds. Instead of 7.5W, 15W charging could have made it more value for money, provided that it uses MagSafe, which can support up to 15W. Apart from that, I've no complaints about this charger, and it's a steal deal. 
Pricing
The MagEZ Slider will cost you $129 for all these features, which is way better than what you were getting if you got an Apple MagSafe Duo charger with the same pricing. 
And if you pay 50$ more for the product, you'll get the Apple Watch attachment, bringing the total to $179, which can be slightly expensive for some. 

Sajid
PITAKA MagEZ Slider 2 review summary
PITAKA MagEZ Slider 2 review summary
4.5
5
0
1
PITAKA's MagEZ Slider 2 is a substantial upgrade from its predecessor and offers more value to its price with features like a 4,000 mAh power bank, spinning base, multi-devices charging, and much more. However, the only thing I felt it could improve is the charging speeds.
PITAKA's MagEZ Slider 2 is a substantial upgrade from its predecessor and offers more value to its price with features like a 4,000 mAh power bank, spinning base, multi-devices charging, and much more. However, the only thing I felt it could improve is the charging speeds.
Sajid is an Electronics and Communications Engineering graduate who loves writing about tech. He's primarily interested in writing about Android, iOS, Mac, and Windows. You'll find him watching Anime or Marvel when he's not writing.